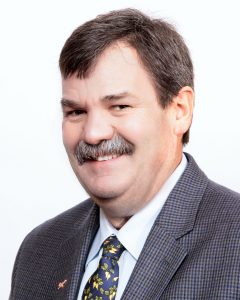 Galen Lee
New Plymouth, ID
Nyssa-Nampa Sugarbeet Growers
ASGA President 2016 – 2018
Galen and his parents, Art and Freda, own and operate Sunnyside Farm, LLC, which is a diversified row crop and livestock operation in New Plymouth.  In addition to 230 acres of sugarbeets, the 1,250-acre operation also raises asparagus and peppermint as cash crops, and alfalfa, corn silage, peas, and earlage for the 250 head dairy and 85 head cow/calf operation. They also raise all their heifers and steers from both operations. Galen grew up on the farm, and after college and three years working in the Midwest, he returned in the summer of 1991.
Lee currently serves as President of the Nyssa-Nampa Sugarbeet Growers Association and has been on that board for 14 years. He has served three years on the Snake River Sugar Company Board of Directors and has been a member of the American Sugarbeet Growers Association Board of Directors since 2009.  Lee was elected President of the American Sugarbeet Growers Association February 2016.  Lee goes to Washington D.C. yearly to lobby for the sugar industry.
Outside of sugarbeets, he is on the Board for the Idaho Mint Growers Association, Peyette Valley D.H.I.A, and is President of Payette County Farm Bureau. He has been active in Farm Bureau on the county, district and state level for several years, one of which he served as state Chairman for the Young Farmers and Ranchers.
Galen and his wife, Cindy, have been married eight years and between them have eight children (one of whom is still at home) and 15 grandchildren. Cindy, a registered nurse, shares ownership with her two oldest sons in Heart 'n Home Hospice & Palliative Care located in Fruitland, Idaho and employs over 150 full and part time employees. The entire family is active and involved in the community and in church activities.