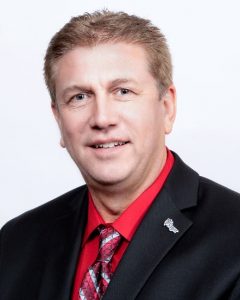 Rodney Olson
Halstad, MN
Red River Valley Sugarbeet Growers Association
Rodney was born and raised in Halstad, Minnesota. Rodney and his wife, Anita, (of 30 years) raised their family and still reside on the land homesteaded in 1874 by his great-great grandfather Knute Olson. Rodney is the 5th consecutive generation to live and farm on that homesteaded property in Norman County, Minnesota.  They raise sugarbeets, wheat, soybeans and corn.
Rodney joined the ASGA Board of Directors in 2016 and serves on the Meetings Committee.  His leadership background includes Executive Committee Member for the Red River Valley Sugarbeet Growers Association, current Chairman of Halstad Elevator, Halstad Township Supervisor, President of Halstad Fire Department Relief Association, a volunteer with the Halstad Fire Department (since 1989) and a member of the Board of Trustees for the East Marsh River Lutheran Church.
Rodney and Anita have three children; Brittany, Blake and Ryan. Ryan "Knute" will be the 6th generation of Olson to farm in Norman County.
Annual Meeting -- REGISTRATION OPEN !
Meeting and Hotel registration open through January 6th.


2022 ASGA Annual Meeting
Hyatt Regency Spa and Resort at Gainey Ranch
Scottsdale, AZ
January 30 – February 1, 2022